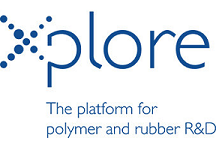 Micro Fibre Line: FL
Xplore's microfibre line enables you to obtain fibres from just 5 - 10 g of material in 10 - 15 minutes in a reliable and reproducible way. So less material is needed for testing, material development time is drastically reduced and considerably less R&D budget is needed.
Optionally a multifilament die (MFD) (see below) can be mounted onto our Xplore MC 15 compounder to have a vertical spinning die outlet, which enhances the spinning process. The MFD consists of twelve die openings to enable for multiple filament spinning applications. The MFD can be completed with a two-stage quench box and wetting ("avivage") unit and melt strength measurement to produce top quality multi-filaments.
Smaller samples, faster sample generation. Only a fraction of material is used compared to conventional fibre development
Continuous feeder kit. No need for an additional spinning pump, as our micro compounder is featured with throughput control to secure uniform fibre diameter
High-speed winding unit (up to 200 m/min) and low speed stretching unit. This innovative design allows the equipment to fit on a laboratory bench
Variable settings. Speed, overlap pitch, heating modes and other settings can be adjusted to produce diverse types of fibres
Fibre can be heated via radiation in the "hot shoe" or via conduction with optional "hot pin"
Selection of fibre dies
Optional multi filament die; must be connected with our Xplore MC 15 compounder
Optional quench box and wetting ("avivage") unit
Optional continuous forced feeding kit; which consists of a volumetric feeder, water-cooled top hopper and elongated forced feeding screws
*Note: One of the two units of the FL can be acquired separately