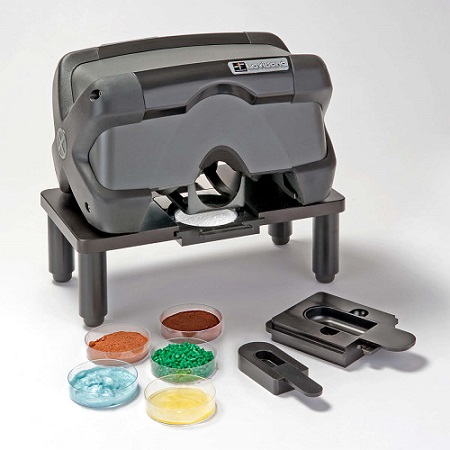 NC45 Non Contact Spectrophotometer
The Lovibond® NC 45 Non Contact 45/0º geometry benchtop spectrophotometer is designed for the colour measurement of many types of wet and dry samples including powders, pastes, gels, plastics and paints. The versatile form factor also simplifies measurements on two and three dimensional objects. The NC 45 utilizes LED illumination, ensuring efficient robust functionality and reliable performance.
Non-Contact Colour Measurement for Awkward Samples
You can now measure samples from a distance, eliminating surface distortion caused by contact based measurement methods.
Powders and tablets powders are often difficult to measure due to the uneven texture of the product. Sample presentation methods such as glass barriers often distort the appearance of the material. You can now avoid this situation and measure powders, gels, liquids, creams and pastes in their natural states.
Two & Three Dimensional Objects No Longer a Problem
The versatile design and integrated gloss sensor provides 60º correlated gloss values, simplifying measurements on two and three dimensional objects.
No Need for Caibration Between Samples
With the NC 45, you can quickly and easily switch between dual measurement spot sizes, 6 mm (1/4") and 12 mm (1/2") without the need to recalibrate.
Accessorise for More Flexibility
The NC 45 standard "spoon" and "petri dish" adaptors allow you accurate and repeatable sample presentation. Customised adaptors, for unique requirements, futher increase its flexibility. Sample preparation and clean up is fast and simple.
Measure Samples of Varying Heights and Shapes
The NC 45 mounting stand allows easy, accurate height adjustment of the Lovibond® NC 45. You can accurately set the measurement distance is eliminates guesswork and ensures accurate and repeatable measurement results on virtually any sample including wet gels and powders and other difficult to measure products.