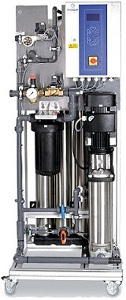 Protegra CS RO/EDI
Consistently high RO/DI water quality designed to serve the need for high volume requirement
Protegra CS series are available with either a single stage or a two stage EI-Ion Electro-deionization module.
Conductivities of <0.1 S/cm in single-phase and <0.07 S/cm in dual-phase systems are achieved. The TOC content is < 30 ppb.
Pure water output up to 750 L/hr
Operates efficiently and economically, since the EDI-cell has a loss rate of only 10%.
Germ reduction is achieved by means of the special arrangement of the separate bed process and a related pH-value shift into the acidic range.