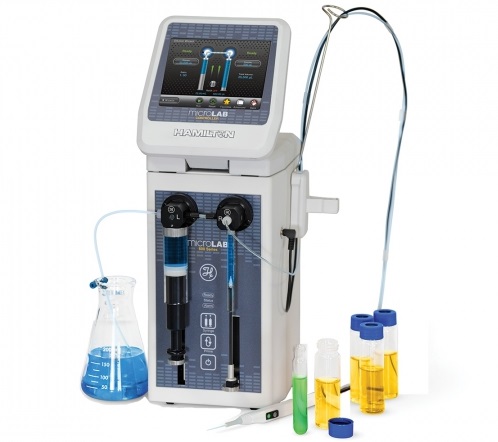 MicroLab Series - Dilutor/Dispenser
The Microlab 600 is a highly precise syringe pump with a graphical user interface designed to quickly and easily dispense and dilute liquids. This positive displacement system provides better than 99% accuracy, independent of a liquid's viscosity, vapor pressure, and temperature. The inert fluid path minimizes sample carry over and improves compatibility with harsh chemicals.
The Controller - Integrates a streamlined user interface with a large touchscreen display. Dilutions, dispenses, titrations and more are visually displayed in real time with just the touch of a button.
The Syringe Pump - Aavailable as a single or dual syringe system. The high torque, precision stepper motors provide unsurpassed positional accuracy across the full range of Hamilton syringes from 10.
The Universal Valve - Innovative fluid logic enables the same Universal Valve to be used in all Microlab 600 dispensing and diluting applications.
Bubble Free Prime Syringes (BFP) - The BFP syringe has a conical plunger tip that extends through the threaded termination and into the valve. This unique design expels the air from the syringe and valve decreasing the number of required priming cycles.
Compliance Package - Microlab 600 Advanced, a comprehensive compliance package. This free software update provides a variety of security protections and simplifies adherence to FDA GXP regulations.
Chemically Inert - The fluid path is made of borosilicate glass, PTFE and CTFE, which are resistant to harsh chemicals used in the laboratory. These high quality materials minimize the potential for leaching of metals or other contaminates that can be detected by downstream processes.