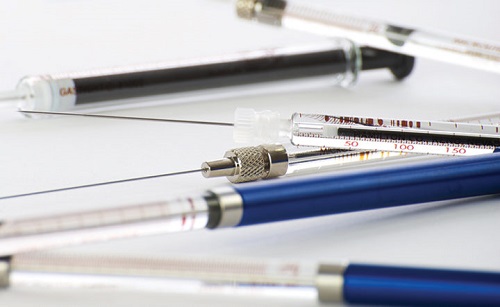 Syringe with the Velvet Feel
The Measure of Excellence® for your application. Hamilton syringes are the finest quality precision fluid measuring devices available. Top quality materials and skilled workmanship ensure that Hamilton syringes consistently deliver the highest possible performance for reliable analyses. For manual uses, the syringes are accurate to within ± 1% of the nominal volume with a precision of 1% at 80% of the total volume.
Highest Quality Materials - The first precision MICROLITER.
Unsurpassed Accuracy and Precision - Subject to extensive quality control procedures and tested to make sure they meet the high expectations of accuracy and precision.
The HAMILTON Quality System is EN ISO 9001 / EN 46001 certified.
Several different needle point styles are offered on HAMILTON syringes and needle products depending on the application. The standard needles are manufactured from stainless steel and optimized according to use and syringe capacity.
Different Applications: General Syringes by Series; Chromatography Syringes; Life Science Syringes; Instrument Syringes; Digital Syringes; Carbon Analyzer Syringes.