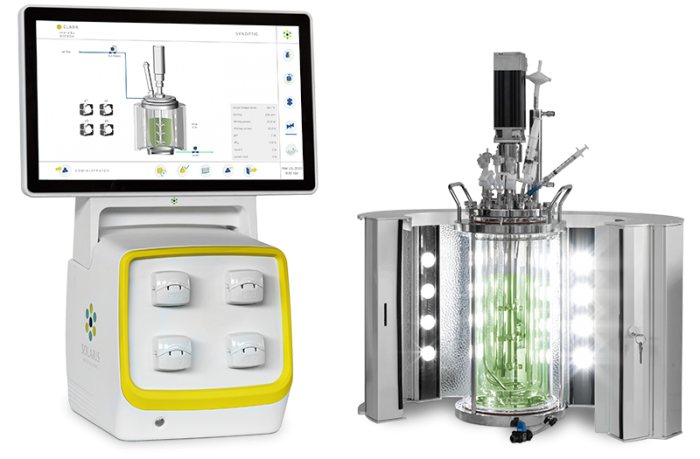 ELARA ST-Single & Parallel autoclavable stirred Photobioreactor
ELARA ST is a stirred jacketed photobioreactor ideal for phototrophic organisms such as Moss, Microalgae, Bacteria and plant cells. The fully removable light module allows to use Elara as a traditional fermenter/bioreactor.
4 L total volume borosilicate glass vessel, 3:1 H/D ratio.
Different configurations available, with the choice of Rushton/Marine/Pitched-Blade impellers, and Toro/Sintered sparger.
Wide range of measurement and control options, including temperature, pH, dO 2 , dCO 2 , redox, antifoam, level, conductivity, weight, cell density (viable cells).
Optional integration of up to 4 analog input/output connections, choosing between 0-10 V and 0-20 mA/4-20 mA (e.g. pumps or valves with power supply independent from Solaris electrical cabinet).
Different gas mixing strategies with up to 5 TMFC and/or solenoid valves.
Fully removable and cleanable glass jacket for improved heat transfer during autoclaving.
Light module consisting of n.3 vertical bars with 6 white dynamic LEDs each; Each LED consists of four chips: n.2 dedicated to warm white light (2700 K) and n.2 for cool white light (6500 K)
LED total power: 180W; LED brightness: 6120 lm.
Automatic and manual control of light intensity and circadian cycle simulation.
The light spectrum is selectable, and the light intensity is dimmable from 0-100% up to 3000 μmol(photon)/m2.