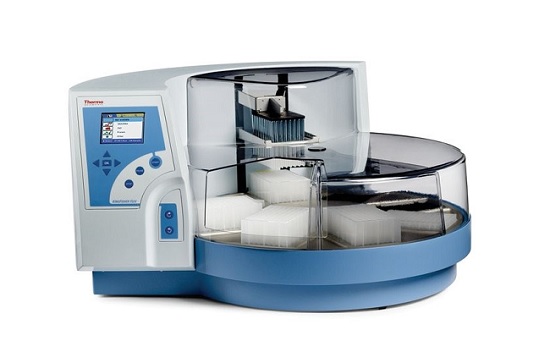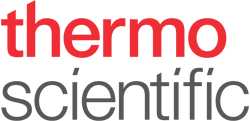 KingFisher™ Flex Purification System
KingFisher™ Flex is an automated extraction system that provides a flexible solution for different sample handling. Using revolutionary magnetic particle separation technology, this system provides excellent reproducibility and quality.
The KingFisher™ Flex System is recommended for use in genomics and proteomics, target identification, veterinary assays, biomarker discovery, quality control and forensics.
User-friendly graphical interface
Ready-made protocols for different type of applications are available
Easy-to-use Thermo Scientific™ BindIt™ Software provides instrument control, protocol creation and modification
Internal memory can store up to 500 extraction programs
Open and flexible system lets the customer use any magnetic particle-based kit to meet the application demands
High throughput system processes up to 96 samples
Fast sample processing speed (< 40 min for 96 whole blood samples, viral transport media or respiratory specimens, etc.)
With 24 configurations, customers can raise the processing volume up to 5mL, resulting in increased yield of the purified product
KingFisher Flex Accessories
| | | |
| --- | --- | --- |
| No | Name | Size |
| 1 | KingFisher™ Flex 96 PCR head | Each |
| 2 | KingFisher™ Flex 96 KF head | Each |
| 3 | KingFisher™ Flex 96 Deep Well head | 1 head |
| 4 | KingFisher™ Flex 24 Deep Well head | 1 head |
| 5 | KingFisher™ Flex 96 PCR head and heating block | Each |
| 6 | KingFisher™ Flex 96 KF head and heating block | Each |
| 7 | KingFisher™ Flex 96 Deep Well head and deep well and KF heating blocks | Each |
| 8 | KingFisher™ Flex 24 Deep Well head and heating block | Each |
| 9 | KingFisher™ Flex 96 PCR heating block | Each |
| 10 | KingFisher™ Flex 96 heating block | 1 block |
| 11 | KingFisher™ Flex Deep Well heating block | 1 block |
| 12 | KingFisher™ Flex 24 Deep Well heating block | 1 block |