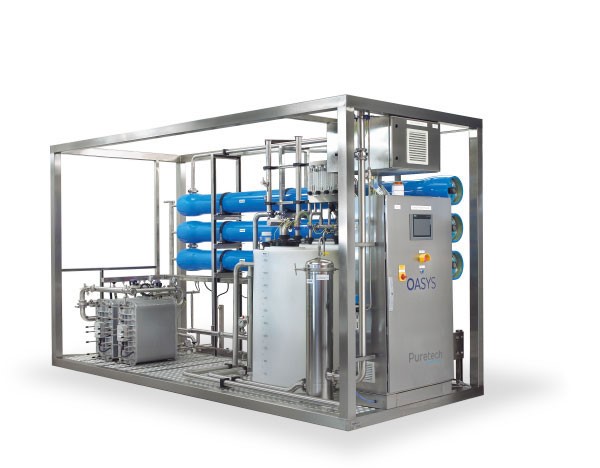 Puretech OASYS Pure Water Generation with Chemical Sanitisation
Puretech Oasys offers world-leading chemically sanitised pure water delivery. Puretech Oasys multi-technology purified water systems are designed and constructed to produce purified water in full compliance with cGMP guidelines as per FDA and EMEA, EP, JP and USP requirements for pharmaceutical, laboratory and medical applications.
Puretech engineering and manufacturing practices follow ISO 9001 procedures, ASME BPE criteria, GAMP guidelines, etc. Design and construction meets the most stringent Regulations and Codes from Europe, USA and others concerning Safety and Pressure Vessels. To ensure the equipment meets your requirements, we work in partnership with you, a dedicated team follows your order as a unique project. We develop specific Quality Plans (DQ, IQ and OQ) and undertake factory acceptance testing (FAT) to give assurance of performance and quality.
Purified water to USP, EP and JP
Semi-automatic chemical sanitisation
Flexible outputs from 300 to 20,000 l/hr
Designed for simple upgrading of production rate
Provides constant monitoring of RO status and gives warning of requirement for cleaning
Constructed from 316L stainless steel, orbitally welded, internal surface finish 0.5 Ra. Designed to ASME BPE
Choice of sophisticated control systems with inbuilt data logging and paperless chart recorder
GAMP and 21 CFR part 11 compliant
Validation to regulatory and client standards
Minimises waste water
Remote access option to provide monitoring and control from another location