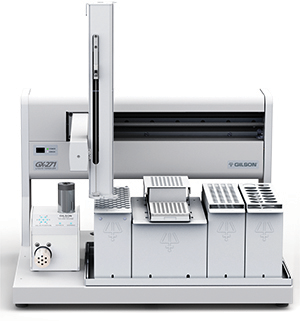 GX 271 Liquid Handler System
The GX-271 Liquid Handler offers a small footprint, medium capacity liquid handler and autosampler offers small-to-large volume injection, fraction collection, and liquid handling capabilities. Its optional dynamic syringeless pumping system is capable of delivering microliters to hundreds of milliliters, with no change in hardware.
Multi-solvent selection, high pressure variable mixing, and interchangeable pump heads.
Gilson pumping system can support isocratic, binary, and ternary gradients.
Single- or multiple-column schemes can be accommodated.
Detection options include 171/172 diode array (DAD), 157/159 ultraviolet (UV) and/or visible (Vis), prepELS™ II evaporative light scattering (ELS), and VERITY 1900 mass spectrometer (MS) detection, as well as conductivity and pH monitoring with the VERITY 1810.