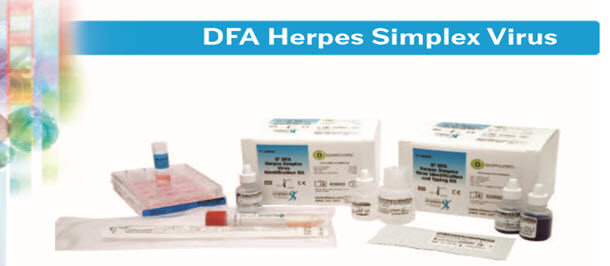 D3 DFA Herpes Simplex Virus Identification & Typing Kit – Cat. #01-090000
Identification and typing kits- DFA Herpes Simplex Virus
A Complete System Approach Combine the D3 DFA HSV Identification or Identification and Typing Kit with H&V-Mix MixedCells, FLOQSwabs and UTM for a complete system approach to your Herpes simplex virus testing needs.
Rapid Turnaround Time Most lesion or genital herpes cultures show positive results within 24 hours on H&V-Mix MixedCells. Confirm identification with one 15-minute staining step.
Flexible Reagent Formats Order as a complete kit containing reagents, control slides, PBS and mounting fluid, or order reagents independently as an Identification and Typing Duo Pack (HSV-1 and HSV2 Reagents packaged together) or Single HSV Identification Reagent.