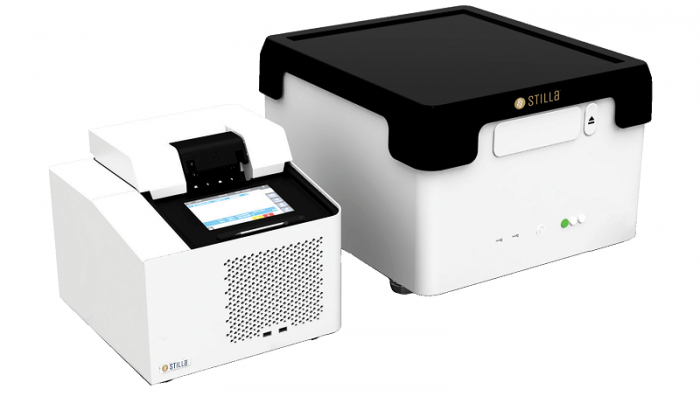 naica® System
Stilla's Crystal Digital PCR™ technology for absolute quantification of nucleic acids is based on cutting-edge microfluidic technology that integrates the digital PCR process in a single consumable, reducing hands-on time and interaction, so you can simply insert your sample and walk away.
The sample is partitioned using a network of microchannels into a large array of individual droplets, also called a droplet crystals. The individual droplets are partitioned into identical sizes — each its own reaction compartment — before PCR. PCR then amplifies the fluorescent target in the droplets. The result is the accurate and precise quantification of multiple targets in a single reaction, saving you both time and precious sample.
With a combination of powerful imaging, the flexibility to use up to 6 detection channels, and proprietary software for analysis, Crystal Digital PCR™ is designed to offer an unmatched level of confidence in digital PCR measurement.


Easy-to-use digital PCR solution: On-chip integrated workflow, Minimal hands-on time
Flexible Digital PCR: Up to 6-color target multiplexing
Flexible throughput: From 12 to 48 samples / run
Fast time to results: Prepare (10 min), Amplify (2 hrs), Read (<1 hr), Analyze (5 min)
User-friendly Crystal Miner software
Greater precision, accuracy, and sensitivity: Increasing adaptability across application area