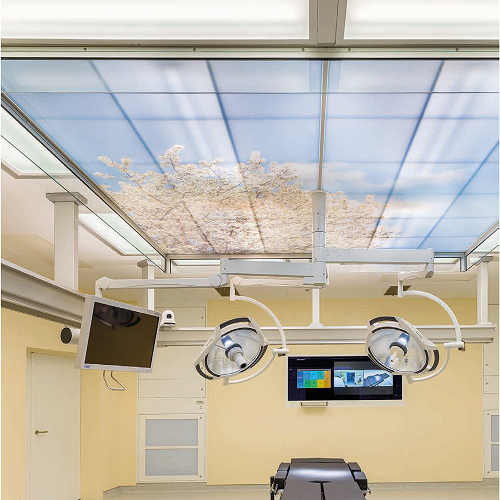 MANN+HUMMEL Laminar Airflow Systems for OT
MANN+HUMMEL has been a specialist in LTF ceiling systems (Laminar Flow systems) for more than 40 years. Over this time they have contributed to the reduction of the germ load in thousands of operating theatres, preparation rooms and intensive care units - delivering the highest levels of air cleanliness while maintaining all the required comfort criteria. MANN+HUMMEL LTF ceilings achieve the required particle and germ counts in accordance with all international standards, including DIN 1946-4, ÖNORM H6020, SWKI VA 105-01, HTM 03-01.
The supply air is preconditioned via a central air handling unit (central AHU) directed via the ventilation ducts into the LTF ceiling pressure chamber and guided in via
HEPA filters. The supply air is filtered and blown out at a speed of 0.25 (0.38) m/s towards the surgical protection zone via a flow-optimised, trapezoid profile (CG distributor) covered with a double-layered special fabric. The double-layered CG distributor produces this stable, low-turbulence displacement flow. Flow stabilisers reduce the constriction of the air flow. The protection zone includes both the surgical team and the patient as well as the instrument and side tables. Impurities in the working/patient area are detected by the low-turbulence displacement flow and discharged via fluff separators near the floor.
Lowest germs counts <10 cfu/m³ acc. to valid standards
Optimum low-turbulence displacement (LTF) ensures rapid removal of airborne contaminants (particles and germs) from the protection zone
Perfect and gap-free integration of the surrounding sub-disciplines and false ceiling
Very low sound pressure level ≤ 45 dB (A)
Wide product range with modular assembly
Minimised pressure drops and low energy consumption through the use of HEPA filters from our in-house production
All acceptance tests met; leak test with test aerosol (DEHS test), protection zone determination (at rest), determination of the degree of protection, determination of the degree of turbulence
Draft-free, comfortable indoor climate
Disinfectant-proof design