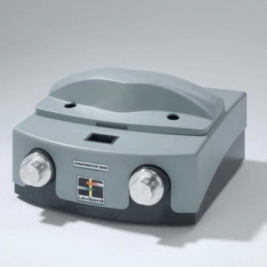 Comparator 3000 / Petroleum AF650
Series of single scale, 3-field instruments for visually determining the colour of samples by direct comparison with coloured glass filters.
Lovibond Comparator 3000 / Petroleum AF650 is constructed from ABS (Acrylonitrile Butadiene Styrene) Fire Retardant Plastic, a robust and chemically resistant material ideal for industrial environments
Single press of large switch illuminates sample for one minute (two presses = two minutes, three presses = three minutes), hence no energy and bulb wastage
Halogen, long life, light source combined with standard daylight filters ensures full compliance with old units and consistency from unit to unit
Low voltage power supply
Disk values read directly from disks
Disk can be simply, but securely, removed allowing replacement if necessary
A new replaceable white insert is included with each instrument to ensure correct lighting levels are preserved. The old models white painted internals often became contaminated and discoloured over time
Packs of 3 white insert replacements can be ordered when needed (as with the current Model F instrument.)
As with the PFX and PFXi ranges, fully removable sample chamber allows quick cleanup of inevitable spillages.