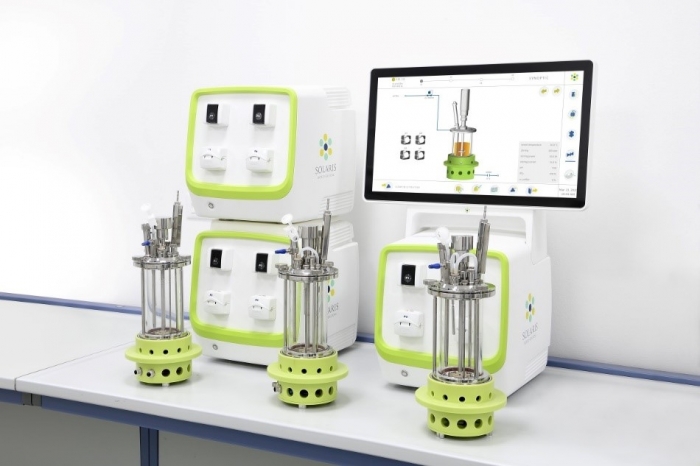 IO-Single & Parallel autoclavable stirred mini-fermentor/bioreactor
IO is a completely electrical mini fermenter/bioreactor with a fast and accurate thermoregulation system (without water circulation.). With total volumes of 200ml or 1000ml, it represents an innovative device for process development and media optimization.
Single-wall borosilicate glass vessel, with thermoregulation performed through a Peltier Cell (no need for an external chiller/water supply).
Different configurations available for microbial (aerobic/anaerobic) and cell culture applications, with the choice of Rushton/Marine/Pitched-Blade impellers and fluted/L-shaped sparger.
Wide range of measurement and control options, including temperature, pH, dO 2 , dCO 2 , redox, antifoam, level, conductivity, weight, cell density (total cells, viable cells).
Modbus digital sensors reduce background noise and guarantee quick response time.
Suitable for batch, fed-batch and continuous processes.
Powerful and accurate (1 RPM) brushless motor.
Optional integration of up to 4 analog input/output connections, choosing between 0-10 V and 0-20 mA/4-20 mA (e.g. pumps or valves with power supply independent from Solaris electrical cabinet)
Different gas mixing strategies with up to 5 TMFC and/or solenoid valves.
Gas out can be optionally integrated with a condenser with Peltier Cell.
Extremely compact system maximizes lab space.